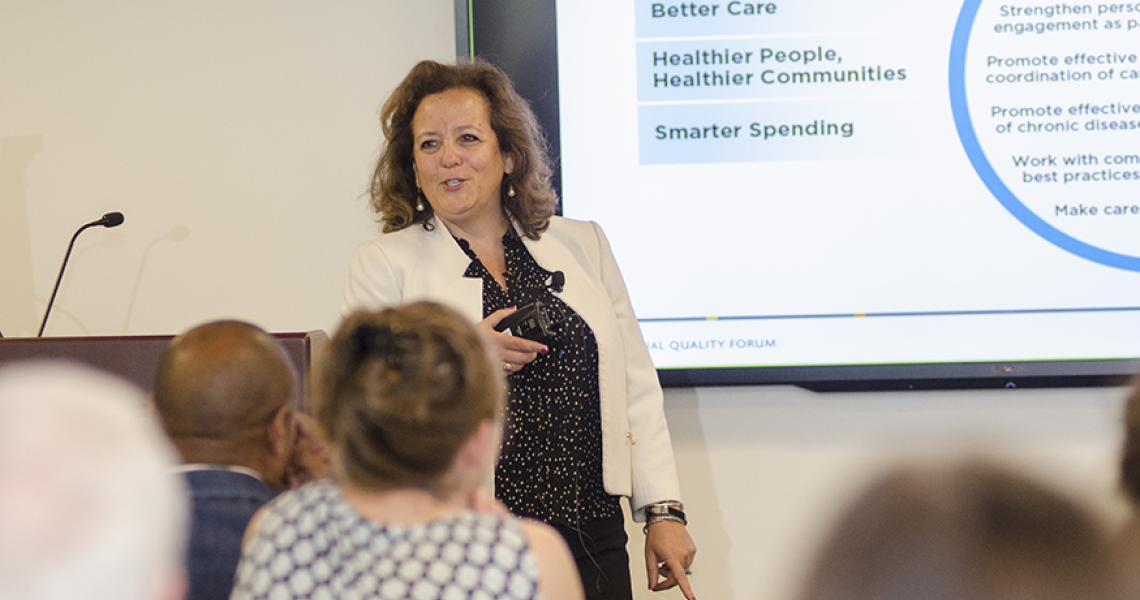 "Six years ago, my father was in the hospital with cancer, septic," explained Helen Burstin, MD, MPH, FACP, assistant clinical professor of medicine at the George Washington University (GW) School of Medicine and Health Sciences and senior professorial lecturer at the GW Milken Institute School of Public Health. "He looked kind of gray, and the doctor in me wanted to check his blood pressure. The nurse came in and I was so pleased … I thought she was going to check his blood pressure. But then she asked, 'Mr. Burstin, have you had a pneumococcal vaccine?' " Her audience gave a knowing groan.
Burstin was invited to speak at the Department of Clinical Research faculty retreat, addressing both those in the classroom, and an audience that included students, listening online.
Burstin is currently the chief scientific officer at the National Quality Forum (NQF), said John Young, DPS, assistant professor of clinical research and leadership, in his introduction. Prior to her time at NQF, Burstin was the chair for the Quality Measures Workgroup within the Health IT Policy Committee of the U.S. Department of Health and Human Services.
The topic of Burstin's discussion centered on improving health care quality through assessment measures. "We want to see what measures are of value, and get rid of the measures that do not add much value," she explained. "We have an impressive portfolio of measures on treatment … but we have painfully few measures on communication and patient-centered care."
In an effort to bring more focus to patient-centered care and feedback, the NQF, said Burstin, has partnered with Patients Like Me, a health database that has registered more than half a million patients across 40 different chronic diseases, to determine how patients can benefit from the quality enterprise. "We did a stakeholder panel with them, and people were so excited at the idea of hearing the voices of these people, these patients, who were the ones actually affected by these [health care] problems."
Burstin also discussed a quality tool established at Dartmouth. "They have a rule at Dartmouth that no tool should be more than three questions long," she explained. "The answer scale is a 1–9 scale. I asked why it was 1–9 and they pointed out that a cell phone has nine buttons. This tool was developed so that a patient could give feedback in near real time from a cell phone."
Such tools and measures bring patients and their family members into the conversation of deciding what measures are helping in health care, and which ones bring nothing to the table. This also helps clinicians to know where their patients are benefiting and where they are not. "Different hospital emergency departments have different measures on hand cleanliness," Burstin pointed out, "we need to decide what measures are important, and keep them consistent across the board and ensure that clinicians are not performing measures just because they are told to, but because they are actually helpful to the patient."
The example of her father's treatment in the hospital drives Burstin's point home. "From a systems perspective, he had been a part of that health system for 25 years. In some file, somewhere they knew he'd had a pneumococcal vaccine," she said. "She was performing this measure that was not adding any value at all to my father's care, but rather was part of the process at the hospital."
The lecture concluded with the presentation of the Outstanding Adjunct Award, given for the first time this year, to acknowledge the hard work the adjunct faculty performs.  The award was presented to Melanie Romero, MPH, adjunct instructor of clinical research and leadership, in the health care quality program. Romero is just one of the 113 adjunct faculty members in the Department of Clinical Research and Leadership.